Currently viewing the tag: "History"
I have been undergoing an identity excavation and restructuring for the last couple of years. This excavation became somewhat archeological in 2010 when I traced my genealogy and ancestors. Who are they and then who does that make me? I have been trying to measure all of the genetic material and what it has overcome […]
I have been undergoing an identity excavation and restructuring for the last couple of years. This excavation became somewhat archeological in 2010 when I traced my genealogy and ancestors. Who are they and then who does that make me? I have been trying to measure all of the genetic material and what it has overcome to endure and thrust me forth. I guess I was looking for perspective, but the question quickly turned into "what did they eat?"
For Christmas 2010, I went on an extreme back-country ski trip in the Charlevoix region, being prepared for cross-country skiing with a friend from Montréal and two great girlfriends from France. We had a great time, without accomplishing the skiing from  refuge to refuge. We ate a decadent reveillon dinner in a cabin in the woods and then got shamanistic and loose in an igloo under the moon. On the way home, though, we stopped in the villages of my ancestors: Petite-Rivière-St-François for my Simard side, Chateau Richer for my Chabot and Mésange side and Ste-Anne-de-la-Pérade for my Leduc side. It was winter and very beautiful, but things were closed for the holidays, and the only hint of my ancestors' diets was that in Ste-Anne-de-la-Pérade were the ice fishing cabins dotting the river, and I imagined my ancestor Antoine Leduc, courreur des bois, ice fishing as well.  These cute villages seemed to take on a special meaning as I connected them to my genetic origins.
In the summer of 2011, I went to France to visit the same French girls I had visited my ancestral villages with in Québec. I wanted to see them all, but I didn't have time to see Angoulême where my Simard side is from. I did see Nalliers in Poitou-Charentes where my father's paternal Chabot side emigrated from. It was really old, rural and quiet. The village was tiny, the church empty and I only saw a few really old people in the streets.
The second place I visited was the origin of Antoine Leduc, my maternal grand-mother's ancestor. There is a novel about him and he had quite the adventures as a Courreur des Bois, getting married to a Fille du Roi and eventually getting killed in the Toronto or Detroit region by the Iroquois while trading furs. His village was called Louvetôt and it was in Normandy.
I took the train from Rouen to the closest village and then I was going to walk 7 km to Louvetôt. A trucker picked me up, and asked why I was going to Louvetôt as I was obviously far from home. I told him I was searching my ancestral lands for my roots. He said "Oh la vache!" when he thought about someone coming from Canada to a place like Louvetôt with probably about 100 inhabitants.
When I got there, I couldn't really figure out what they ate either as they had one bakery that sold a few pan-French pastries and cheap candy. There was a church and the City Hall and school were combined. It took me about 5 minutes to walk from one end of town to the other. I walked through the countryside all afternoon from one rural village to the other. It was nice, but I didn't find my ancestors' food.
The last place I visited though was wonderful! It was called Mortagne-Au-Perche- still in Normandy. I hitch-hiked there and was driven by a sweet Portuguese family and a very kind Turkish man that went out of his way to bring me there. I stayed with a sweet 71 year-old woman named Madeleine.
Mortange was the place of origin of my ancestor Marie Mésange, wife of Mathurin Chabot(My father's paternal ancestor). She was baptized on April 4th, my birthday, and Mathurin died on June 12th the day of my father's birth.  Mésange is the French name for the tit (bird).
The  culinary past is still present. Boudin Noir! Mortagne is the capital of Boudin Noir (black blood sausage or pudding). Over 100 exhibitors, butchers, traders and artisans from around the world gather for an annual festival for blood sausage enthusiasts! Four to 5 kilometres of black blood sausage is sold during the three days. There is a competition for who has the best blood sausage (tasted cold), a pig squealing contest and participants have to take a vow,  swearing that they eat blood sausage at least once a week religiously and that they will sing and spread the good news.
I didn't eat blood sausage until I got to Québec, and I loved it. It felt like coming home. I made it for my Simard family in a Caribbean-style (Pudding and Souse) a few years ago. My Mom, my Aunts and Grand-parents were overjoyed to eat boudin visibly displaying pangs of nostalgia, but my cousins weren't having it. Why did blood sausage feel comforting and delicious to me and not my cousins?
I really felt at home in Mortagne-au-Perche. The architecture and scenery was gorgeous. I was welcomed into Madeleine's home. I also enjoyed the company of Madeleine's friends one evening, two newly re-married couples in their 60's living life to the fullest, cracking jokes, the wine flowing, getting that dreamy Shangri-la look when they spoke of the mystical Quebec of Gilles Vigneault that they'd never gotten a chance to visit, but had seen on tv so many times.
They grumbled about how the butcher, in the centre of town with a snazzy shop, shouldn't make blood sausage because he's stealing business and the work of the charcutier. They made it clear that Le Roi du Boudin was the place to go. The boudin was delicious. I had it smoked, with candied oranges, apples, chestnut, and much more. Other regional specialties in Mortagne-au-Perche  are cider, pommeau and calvados. I don't drink anymore..but I drank while I was there… I love pommeau and cider and it was great with the blood sausage. I did find traces of my ancestors: I ate what they ate, I saw buildings that had belonged to the aristocratic Mésange family and I saw the bird itself.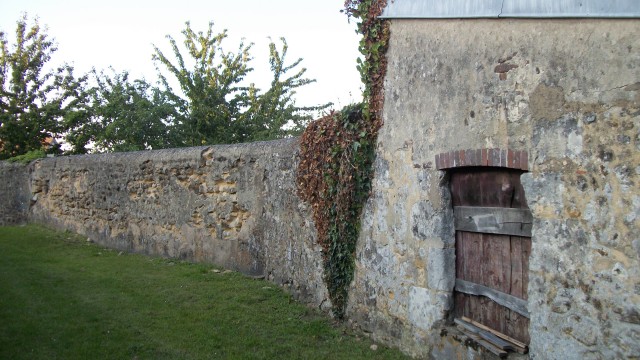 I went to visit Wing Noodles on the corner of Côté and de la Gauchetière in Chinatown. The machinery was fantastic and I really felt I was in Willy Wong-ka's factory of magic. I could not photograph the machines, as they did the trickiest parts of the tasks: mixing, rolling and cutting dough. They […]
I went to visit Wing Noodles on the corner of Côté and de la Gauchetière in Chinatown. The machinery was fantastic and I really felt I was in Willy Wong-ka's factory of magic. I could not photograph the machines, as they did the trickiest parts of the tasks: mixing, rolling and cutting dough. They also steamed, baked, fried and cooked. The pump-it-out-o-matic machines work tirelessly, some even with no one next to them monitoring production. It's as if the factory has a life and rhythm of its own. Little crêpes piped onto a gas oven conveyor belt, are folded while soft, stuffed with a fortune by the machine and sent down into a bin to cool and harden with their proverbial compadres. One far out machine also had a series of six blades that guillotine noodles to standard size one after the other.
The employees were as cheery as oompa loompa's whether in delivery, packaging, labelling, measuring into the mixers or in other jobs and departments. There is a real feeling of being part of something magical at Wing's, and part of a family. The workers are a mix of all nationalities and the owners George and Gilbert work on the floor doing production and then move into offices, over onto the phones, etc. They were present on all levels. Workers help each other and get their foot in the door with common sense, work ethic and punctuality. Most are able to perform two or three different production tasks: to keep them sane and afford Wing's the versatility of changing production on a dime.
Wing's makes everything from Wonton wrappers, egg roll wrappers, pot sticker wrappers, gyoza wrappers, soya sauce, plum sauce, white vinegar packages, almond cookies, fortune cookies, a plethora of noodles including fresh rice noodles made with rice they grind themselves, and a collection of organic noodles. They started making organic noodles about ten years ago and sales are stable, but never took off. Fresh noodle production has been lowered as restaurants are tightening their belts and opting for the cheaper dried noodles with the recession.
Wing's fortune cookies are bilingual and they do not include lucky lottery numbers as they do not condone gambling. They made their first batch of cookies specially for a Jewish man that wanted to propose to his wife by having the ring inside in the 60's. They then decided to start producing them on a large-scale.
Why am I telling you this? Do you care about the industrial production of Chinese food products in Montreal? Maybe you do, or maybe you don't, but Wing's itself is important because it is the last-standing original business in Chinatown. Owner George's Great Grand Father came over to Canada in 1880. It seems he came to work on the last bit of railroad construction. After that, he opened a laundry in St-Jean. This was the typical Chinese trade as it required little language proficiency or start-up costs. His son H.C. Lee worked with him. H.C. started his own laundry/grocery service in Montreal with a cart around the turn of the century, then moved back to China and married there.He came back to Montreal in 1911 and started an import/export service. He and his wife had 6 sons, three of which were university educated. Wing's as an actual producer of noodles started in the 40's during the war when noodles could not be imported because of Japanese occupation of China and it was incorporated in 1953. It was taken over by four of H.C.'s sons in the 40's. The most well-known to the public was philanthropist Arthur Lee.
The four brothers used their expertise in chemical, mechanical and electrical engineering to come up with or modify existing equipment for noodle and cookie production and refrigeration. (They still have and use the original fridge.) Wing's already existed under their father, but they brought it up to the level of mass-production. Production has been pondered and tightened on every level.Arthur Lee's son Gilbert is owner of Wing's along with his cousin George. George, like his father, prefers to be in the back doing production. The sons of the other brothers opened up their own plants in Toronto and Edmonton. The Wing's in Toronto is the size of a football field and is the most profitable since most distribution now takes place in Toronto.
Wing's in Montreal has had to adapt to heavier regulation over time. George says that it would be impossible to start a business the magnitude of Wing's today with hard-work; the heavy regulation and the city's outrageous taxes limits opportunities to big investors. George feels for the little guys starting-out because of all of the financial and regulatory obstacles they face. In fact, George says that running a business like Wing's is a huge endeavour for the profit it generates, but because it is the last-standing original business in Chinatown and they are holding on. They have become a pillar in the Chinese community and they feel they have a social responsibility. Most importantly, they believe in Wing's.
George walked me through the areas of production and explained the outdoor silos of flour that had programmed amounts of sucked out of them through pipes and sent to the appropriate area. He explained how each product was made, but even more than that he walked me through Chinatown in November to paint a picture of Chinatown in the 70's when he was a teenager and young adult. Chinatown is now in a great location, but historically it was basically squeezed by the Red Light district to the East and North and the homeless quarter to the South and was the slum where the Chinese were confined. He described the restaurant Ho Ho's on the South Side of de la Gauchetière between Clark and St-Urbain where you could get Chinese stew, a butter bun and the best Boston Cream Pie for $3.25. People ate along a counter looking out on the street and men mostly did lady-watching. Upstairs was clandestine gambling joints as gambling was even bigger in Chinatown then than now! People lost businesses through gambling. On the east side of St-Laurent were many prostitutes, massage parlours and occasionally people engaging in the transaction of sex for money in the street. The west side was full of Asian variety stores and on the southwest corner of St-Laurent and Réné-Levesque was a cinema where you could see three Kung Fu movies for $3- 6 hours of Kung Fu! St-Laurent and de la Gauchetière was also the home of the Rodeo strip club- pronounced "Lodeo". Cheap food, gambling, strippers, kung fu cinema- Chinatown's definitely quieted-down!
George's Aunts and Uncles lived in Chinatown and he said there was a real "vie de quartier" or neighbourhood life. People depended on each other and the community was close-knit. The Chinese community had close ties with the Jewish community based on business and the Jewish love of Chinese food. Wing's helped the huge Wong Wing's get going as did the owner of Steinburger's with business advice and encouragement. People moved out through the 70's and 80's and the city's policies and corruption continued to ravage Chinatown until many businesses closed. George says that Chinatown is now a collection of new and disconnected immigrants that only care about making a buck.
George recognizes that Wing's did so well because of the openness and curiosity of the Québecois. It was also built on the many contributions of workers at Wing's from the Caribbean, Panamanian, Arabs, Greeks and many more. Their first non-Chinese employee from outside of the family, hired in 1961, was a Greek man who worked there for 40 years. George said the hardest phone call he ever made was to call him to tell him that his father Mr Lee had died. This was crazy because he had started out as a grumpy worker and they all called him "Kweilo" or "White Devil", but he became an integral member of the family over the years.
Wing's is a fantastic mix of technology, secrets, story, family, hard-work, close-ties, innovation, tradition and diversity within Chinese Montreal. Wing's exemplifies the legacy of a family through the events and tribulations of time. It is a pillar in Chinatown but also a talisman for the entrepreneur, the immigrant, the family, the funky factory and the Montrealer.
Go Check out: Wing's ad from 1970!
One more intersting thing: for customized fortune cookies for big events please see www.biscuits-fortune-chinois.ca Denis Bordeleau has been making customized fortune cookies with Wing's help for 20 years! I met him on Fitz & Follwell's Flavours of the Main tour of which Wing's is a destination.