Currently viewing the tag: "health"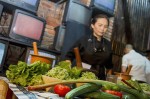 On June 15th, 2013 for the Vegan Rumble & Shake ChuChai backed by: D-Trois Pierres, Les Douceurs du Marché, 4 Corners of the Table, Majiza Phillip Rhythm'n'Groove and Mélanie Dusseault Photographe; faced-off agains:
Green Panther backed by Carya and Zephyr farms, Truffe Import, Brutalimentation, GOA pilates and Jean-Phillippe Cousineau Illustrator; and against
Crudessence backed by […]
On June 15th, 2013 for the Vegan Rumble & Shake ChuChai backed by: D-Trois Pierres, Les Douceurs du Marché, 4 Corners of the Table, Majiza Phillip Rhythm'n'Groove and Mélanie Dusseault Photographe; faced-off agains:
Green Panther backed by Carya and Zephyr farms, Truffe Import, Brutalimentation, GOA pilates and Jean-Phillippe Cousineau Illustrator; and against
Crudessence backed by Lufa Farms, Prana, Sportera, Midnight Poutine and Rachel et Michel Video Productions. This was my experience of it as an organizer….
The Vegan Rumble & Shake felt like having two brides and a groom (vegan ones, of course) and their respective and eclectic families under one roof. There was the food, dancing, confrontation, emotion, the ceremony that was a little drawn-out, couples were formed, people let loose and the guests from different spots in society coming together.
For myself, I felt like the over-zealous mother-in-law in adrenaline-land worrying if everything was going to come together…. until the moment actually arrived and then it all whirled by. Like a wedding, you plan and plan for a day that goes by quickly and when it gets there, you try to just relax and hope nothing goes seriously wrong.
When it went down, it was inspiring to see what comes out of combining so many talented people, their products and  getting them to strut their stuff.
Really, with all of these fine-tuned professionals, nothing could go wrong, they just had to do their thing.
From the wild mushrooms, that were supplied to the sprouts and unconventional herbs, like chocolate mint and anise hyssop, kale, fresh garlic scapes, rhubarb, arugula, maple syrup and strawberries from the farms,to the raw decadence of Crudessence Stéphanie Audet's dessert,
Chef Lily of ChuChai's tightly crafted rolls,and Chef  Luis of Green Panther's fun and festive felafels, the deliciousness and freshness was off the charts.
Crudessence took the trophy for bravado with Stéphanie Audet being hoisted like a championand David Côté's Rocky-style boxing training,
Green Panther did their muscle flexing and red carpet cameos, but Chef Lily had the quiet assurance and grace of a ninja. The variety was the most resplendent aspect of the night to me, and I could have crowned different players for different things, but the combination of all of the creations seemed to over-shadow the unicity of a winner: each contender was a champion in their division.
The old-school hip hop dancers,
GOA's pilates' crew
and Sportera rocked the house.
It was nice to see good and healthy food linked to energy, participation and unconventionality. When I planned this aspect, I wanted it to be like a scene from Westside story where the crews face-off by dancing and singing.
I didn't want passive observers waiting on the sidelines for what comes next, but to get in the Rumble and get their hands dirty with the chefs. This was the second biggest thrill to me.
Tisha, Makeda and Suzanne really killed it, finishing their Bell Biv Devoe choreaography of "Poison" with an up-in-your-face ass smacking aimed at the competition.
They called out "When I say Chu, you say Chi, Chu- Chai, Chu-Chai" They even said "Crudessence, Green Panther- pssshh, who are they?"
They rocked the dis as it can only be done in the old school. Makeda even had the hot pants and halter-top- shazam!
GOA's Dana, Véro and Mariano surprised us, and showed the versatility of pilates; people were having fun and playing and I saw many legs shaking with effort for their teams.
Sportera was the best match with Crudessence in sheer oomph and pep and the competitors moved around double-time with David Côté and Stéphanie Audet seriously scouting the most die-hard soldiers from up-above.
The food at 10:45pm was a welcome reward,
and the buzzing around the tables from station to station and chef to chef,
tasting and chatting created a cloud of sighs, satiation and sheer pleasure.
Many of the winners of the prizes came to me bubbling with joy and thank you's. The mutual gratitude that flowed between the businesses and the participants was unbelievable. From bi-weekly CSA baskets over the season given by Carya to shocked helper Justine Ethier,  to the $200 dinner at ChuChai to Mélodie, all-day workshops in Crudessence's Living Foods academy to Élodie, Michael Mooney jumping around in celebration for his $200 Lufa prize and Romain Rougier that left with his fresh truffle from Truffe Import, there was much to celebrate.
There were less people than we had hoped, just over one hundred, but it was the right number for the space. The bios were a little long and after the hype of presenting the contenders, the zealous exercise, and unbelievable food it concluded with those who had been recruited by the chefs being the real winners, instead of crowning a team. The shake didn't go-down after the strenuous exercise and eating and the food wasn't formally presented nor the ingredients from the farmers and the food suppliers, although, many got the details from the farmers, chefs and suppliers by getting to know them personally.
The imperfection aside, it was a beautiful sight to behold these three clans together and the public joining-in the out-pouring of energy and the culinary muscle flexing and to see people leave well-fed and many with hefty prizes.
Many people have already asked that the event be re-done. I am all for it and I know the spots that need to be buffered.  I also hope all of the contenders can get divorced so we can get married again next year, with less ceremony, more reception, a little earlier and, of course, with a panel of judges and a champion belt to seal the deal!  Be there or be square at the VVEEEGGAANNN RRRRRUMMMMBLE and SSSHHHHAAAKKKEE 2nd edition!
Thank you to Mélanie Dusseault Photographe for all of the wonderful photos and for going above and beyond the call of duty!
Special shout-out to Aisha Issa of Nutrisco Sensorial Marketing who promotes Drugstore and ChuChai and co-organized with me and who has opened-up the world of fantasy event-planning to me!
Check-out the articles of fellow blogger Amie Watson of Midnight Poutine (member of the Raw in Montreal group- like me!) and Rachel et Michel's super-duper video
and Mariève Savaria of Brutalimentation and Jean-Phillippe Cousineau's wonderful drawings
Detoxing will change your life. It changed mine. I had actually had never heard of it or made the connection with the health benefits of fasting or purging. In most traditions there is a time when you shed the excess and cleanse, but that was completely alien to my education. What is a detox […]
Detoxing will change your life. It changed mine. I had actually had never heard of it or made the connection with the health benefits of fasting or purging. In most traditions there is a time when you shed the excess and cleanse, but that was completely alien to my education. What is a detox diet? A detox regime is a period where you reduce toxins to a minimum (gluten, dairy, sugar drugs, alcohol, caffeine, tobacco, etc), you eat foods that help you evacuate the toxins (laxative, diuretic, expectorant, tears, etc) and you give your body the necessary elements to re-build your organs that do the dirty work (liver, kidneys, immune system, colon, lungs, bladder, etc.).
When I tell most people what a basic detox requires they can not fathom not smoking, drinking, drinking coffee or eating wheat, dairy or sugar for a week or two. Some people it's the sugar, others the dairy and others the red meat. Some people do not see the point, while others see it as a death sentence- like taking their reasons to live away. In fact, I would say it is the opposite. It is taking away the crutches, pacifiers and avoidance mechanisms so you can remember what life is really about. Is joy really smoking a cigarette, eating cake or drinking beer? Is that really what life's about? Are self-destructive rewards really rewards? Isn't emancipation from the things we are dependent on real happiness? I think it is, but it is much harder to come by than the quick-fix.
When I started giving cooking workshops with the Réseau d'entraide de Verdun in the fall of 2009, I got topic suggestions from my volunteers and one was "Detox Diet". I decided to take it on. I was very sceptical. The more I researched, however, the more it made sense. Why would I be so sceptical about taking the best care possible of the body for a couple weeks, shipping out accumulated toxins and re-setting habits and re-balancing one's lifestyle? I thought it was like any other miracle cure or diet, but as I researched on it was simply about giving the system a leg-up.
I gave the workshop in January 2010 right after the excess of the holidays and my decision to quit drinking, smoking and using recreational drugs. My habits that were supposed to be fun had already run their course. Drinking, smoking and drugs had ceased to make me feel better- they made me feel worse.
As I researched, I decided I had accumulated alot of toxicity over the years and if anyone needed a cleaning-out, it was me. After the workshop, I decided to start. I was moody, weak and disconnected the first few days, but something clicked in place after that; I felt a lightness and freedom I had never felt. I had so much energy and people kept telling me how radiant I was. I was working in a kitchen at the time and could see the bondage of cigarettes, coffee, alcohol, soft-drinks and starch on my colleagues. They flayed like puppets in cycles of dependence. Those things kept them in their jobs. They kept them in the adrenaline roller-coaster of the highs and lows of kitchen life. Caffeine and sugar fed their performance and booze cradled their descent. I wanted out. There was a whole world out there and I was waking-up to it. For the first time in a long-time, my brain wasn't clouded. I can tell you that that's a great feeling, but it is not the norm, and the change of perspective is jarring. It is at once a feeling of being connected to the universe but estranged from society.
Detoxing is aimed at the body, but it clears the mind and one's life. Once you know how good you can feel- it's hard to get back on the crazy train. Things become more simple, and all of the substances and elaborate fixations we use to distract ourselves from the things we really don't like about our lives, our entourage, our jobs, our lovers and home become very apparent. We become attuned to the accumulated excess and neglect of the fundamental things. Detoxing is a reboot that helps put things back in their place.
My first detox got rid of the bloating of years of heavy drinking. I lost 13 lbs in 14 days. My skin cleared-up and I had so much energy, but good energy meant to move and shake in the day and not to burn the candle at night in some insatiable quest for the ultimate sensation, melodrama or ego trip. The good feelings of the detox helped me to break with the other high's that I had become used to chasing. I had to rebuild my foundations. They had to be built on wellness and healing and not self-destructive rewards.
I felt good about my new discoveries, but they meant a break with everything I knew: my boyfriend of 8 years, the apartment I had been living in, re-working my social circle and leaving the restaurant business. These things all happened. Some of them happened in fluxes of going away and coming back, but I can definitely say that my life has changed. In fact, each spring and fall I detox and each detox marks a new period in my life.
Vibrant is as Vibrant Does
For many of the days between Oct. 4th and 16th 2011, I subbed in for Valerie Legge at her juice bar Ô Jus in Mile End on the corner of Park Avenue and St-Viateur. She is the owner of Ô Jus, and she is also a life-coach who was recently in Germany and Italy giving a Coaching conference. Valerie is a Buddhist-inspired Vegetarian, Life-coaching Sagittarius inside and outside of Ô Jus. Her values translate directly into the business she opened. She has a philosophical attitude to starting and running her business; she spreads nutrition and good cheer. She makes delicious fresh juices and smoothies, home-made baking, paninis and soups and has a variety of high end hot chocolate, cereal coffee, teas and tisanes and coffee. She also has wheat-grass, all natural protein powder, organic lavender and home-made sorbet to complete her repertoire.
Every time I work at Ô Jus, I get out of there feeling invigorated. Valerie has made a space that gives off positive vibes and attracts good souls. People gravitate to Ô Jus because they are vigilant about their health and what they put in their bodies, because they want something delicious to feel good, because they want to work on the computers or soak in the sun from the terrace or the front window or because they just want to talk and be around Valerie or in the store's colourful atmosphere.
Valerie's soups are comforting in the cold and always have an exotic twist: red lentil and coconut, chick pea, curry and mint, sweet potato, carrot, orange and ginger. She makes decadent and nourishing energy balls with dates, nuts, seeds and many things I can't tell you…She also always has home-made muffins like banana and chocolate chip, Mindfulness muffins and lavender and lemon muffins. Her Cosmic Cookies attract regulars and are as delicious as a chocolate chip oatmeal cookie but with so much more: dried fruit, coconut, seeds, etc. They are dense and intense and very addictive…
Valerie has also allowed me to give workshops about detox regimes with a focus on juicing and smoothies and a workshop about high-protein home-made smoothies without protein powders: some vegan and some not. Workshops to come include Food and Mood and happy juices and smoothies (Nov. 29th, 2011)   and green smoothies (Jan 2012). They are enjoyable and are an extension of the juice bar being a life-style institution and not simply an economic endeavour.
I enjoyed the simplicity of working at Ô Jus, baking and making soup at a slow pace, taking in the heady smells.  I also enjoyed the friendliness and curiosity of the clients who embrace health and well-being and share themselves. People chatted me up and exchanged business cards and ideas readily.  This is particular to Mile End, I believe, and Ô Jus fits right in. In Mile End, for many, it is reasonable, even preferable, to take care of one's body and live in a thoughtful manner. Health foods and nutrition are not for extra-terrestrials. It seems to beMontreal's diet for a small planet mecca. There is junk food around like there is everywhere, but at Ô Jus, there were parents taking their kids for a fresh-pressed juice as a treat – new values are being nourished!
Feel free to stop in to Ô Jus (5443 Park Ave.) and taste the fare. Get to know Valerie and open-up to the world where zen is common-place: celebrating the richness of the moment and the wonderful and simple treasures the Earth has to offer.