Currently viewing the category: "Travel and Food"
I attended an event organized for the media to promote LECHOP. Have you heard of it?  It is currently in its 4th year and to be honest, I had never heard of it. Similar to Le Happening Gourmand which is a group of restaurants from Old Montreal that get together and offer Table d'Hôte menus for $22, […]
I attended an event organized for the media to promote LECHOP. Have you heard of it?  It is currently in its 4th year and to be honest, I had never heard of it. Similar to Le Happening Gourmand which is a group of restaurants from Old Montreal that get together and offer Table d'Hôte menus for $22, LeCHOP is like the downtown/crescent version. LECHOP's Table d'hôte is $25 between January 4th and February 11th, but there is an added element as LECHOP has a weekly battle between the chefs of their respective restaurants using a featured ingredient and their battle dish is then served exclusively that week.
When I was first asked to attend I thought, hmmm… Newtown, L'Atelier d'Argentine, Weinstein & Gavino's and Decca 77. I'm not really one of those downtown or crescent kind of diners. I had been to L'Atelier d'Argentine twice and greatly appreciated the decor but was gravely disappointed by the food and how much I paid for it and to see how packed the place was despite the food's poor performance. I've always felt that these types of establishments were built more on strong marketing teams than on culinary talent. Decca 77, however, I knew there was a bit more to them from a culinary point of view, so it piqued my interest. The event was supposed to be hosted by Alexandre Despatis who hosts the LECHOP show  which is also a common marketing strategy of getting a prominent public figure to be at the front center of your activity, but then I guess Crudessence was using Georges Laraque for awhile as a vegan spokesperson. My curiosity got the better of me and I went with good friend Tania Jimenez.
The welcome was warm and I saw the chefs doing their best to put on a show out in the crowd while the action actually was in the kitchen behind the scenes. It's not all chefs that are willing to get out of the kitchen to please and smooze with the crowd. Natalia Machado of l'Atelier d'Argentine (also a lady chef) Paulo Fraga of Weinstein & Gavino's and Giuseppe Sachetti  were the most gregarious as I imagine that Jean-Sébastien Giguère of Decca 77 was in the kitchen. After showing us the last LECHOP episode, for which  people could go and vote online for their favourite dish/chef, then came the canapés along with the  free-flowing wine. There were bites of peppery venison with berry  jelly, canapés of pancetta and cream, beet and goat's cheese saiad all of which were good, but one really caught my palette made by Jean-Sébastien Giguère of Decca 77. This was a smoked salmon mousse with sake candied shallots, maple mayo, furikake (seaweed) and anise powder. It was worth it to come out for this bite.
I guess the moral of the story is that there are over 6000 restaurants in Montreal, the most per capital in North America, yet we are probably the coldest major urban centre in North America as well. Excluding the Toqués (who even almost went under) and Pied de Cochons and a handful of other restaurants in Montreal, most have to think up ways to keep their sales figures up in the months that tourists are MIA and Montrealers are cocooning. I admire the zest of the event and pushing the chefs to create weekly and to prove themselves but mostly getting the public involved through a voting system and through Table d'hôte prices that make it a small gamble to come out and eat or try something new for the client. Some of the restaurants with superstar chefs in Montreal smugly say that they don't advertise, yet some of that arrogance has led them to open one too many restaurants without verifying the solidity of their concept, the staff or menu or maintain the quality of their initial first "baby". I have to say, I enjoyed going to an event where the chefs didn't seem to take themselves too seriously and I also take my hat off to those that put themselves out there and invite bloggers or journalists or other food business people to see what they are doing. Nothing ventured, nothing gained. That's how you reach new markets and not by staying inside of your cliqua until it cannobalizes itself. It was  a reminder that you may be stronger collaborating and levereging  with others in the food industry than staying atop your lonesome peak either sitting on your laurels or lamenting how tough the industry is in Montreal. This was also a  reminder to me that at those moments when business is tough, it's the moment to innovate and get out in the world, even if that's the last thing you feel like at that moment. It's also good for people writing to get out of what they think they are about and try some new things or different approaches  and see how impartial they can be!
I am originally from B.C. and I love going home. I love seeing my friends and family and usually spend most of my time in Northern B.C. and on Vancouver Island. "(I usually pass through Vancouver on the way to other places. Besides its beauty, I think that Vacouver is the capital of Asian […]
I am originally from B.C. and I love going home. I love seeing my friends and family and usually spend most of my time in Northern B.C. and on Vancouver Island. "(I usually pass through Vancouver on the way to other places. Besides its beauty, I think that Vacouver is the capital of Asian tapas!! Tapas has always been my favourite way to eat, and Asian food is usually the cuisine that most delights my palate…especially Japanese and Korean.
I have tried a few places already: Bao Bei, which is wonderful and serves Chinese tapas calling themselves a "Chinese brasserie". Guu in its early days and Happa Izakaya for the Japanese-style tapas or Izakaya eating. On my last trip, though, I tried a new placed called Damso. It is tiny, the décor minimalist and welcoming and the food de-li-cious!! It has just the right mix of Korean and nouvelle cuisine that I like and the Chef makes some surprising combinations.
I also often mix Korean food with western food. In fact, I believe that the best condiment I made in my life was a mix of southern-style chow-chow in which I replaced the cabbage with homemade kimchi. (I also make kimchi with kale, as you can see in this youtube video that I made in the hopes of going to Korea. https://www.youtube.com/watch?v=YK5bj8oBGrY)
I went to Damso with my cousin Sarah, her husband Danny, who is a chef, and my sister-friend Tisha who don't eat-no-powk (swine). We had a nice little dinner and it was a great evening out. Tisha had never tried Korean food, and neither really had Danny and Sarah. Though this place is not at all traditional, it is great both for the uninitiated to Korean cuisine and for people like me who have a weakness for novelty.
Here were the dishes:
The pickled vegetables were beautifully presented, but they were too vinegary and traditional to me, and it would have been nice if each vegetable was pickled in a different way.
This was a just a straight-up fresh salad with the usual suspects in Asian western fusion: sesame, daikon, onions and sprouts, but then there was a bit of sweetness and the homemade bacon that brought it all home: simple, but well executed.
Here is toast with foie gras shavings and tomatoes confits. It was really intriguing, but overall, I felt the tomatoes confits were over-powering the foie gras shavings. It seemed like a dish that could work, but was unbalanced.
Tteokbokki is a very traditional dish with rice cakes in a spicy sauce– and he definitely got it right. Not only was it a hit with everyone, but it meant my friends also got to try some traditional stuff.
Here we have Korean-style chitterlings (fried intestines). My friend Tisha may not normally eat swine, but she's got a soft spot for southern food and this was the best of both worlds.
Squid stuffed with squid sausage served with its ink and caviar: REALLY wonderful! Beautifully presented with delicate layering of flavours.
This was everyone's favourite: the tongue. Simple and well-done. It had a gentle meat-glaze-esque sauce, velvety with collagen and flavour. J
The pig's ear salad was the least favourite – I had pushed for it, but I was disappointed too. (I often eat pig's ear salad, buying the ears already cooked and sliced, and there's a reason for that; if they are over-cooked, the meat starts to peel off the cartilage and if they're not sliced thin enough, they are too chewy and the experience of chewing through thick pieces of cartilage is unpleasant. Indeed, these were a bit too thick. The sauce was also a bit too sweet and I would have preferred julienned vegetables instead of the leafy greens. I did, however, like the ground black sesame. It was beautiful in the plate 🙂
I really loved the spirit of the place. Some of the dishes were extraordinary and some were missing a bit of finesse, but I could feel the dedication of the chef. I admired his willingness to take risks and even make mistakes, and the dishes that were super-dooper came out of his daring combinations of Korean cooking with for the most part French nouvelle cuisine. Koreans are fairly chauvinistic about food, they don't usually want to pay much. In fact, this place remains very affordable but at the same time offers dishes that are definitely off the beaten track and beautifully presented and the tapas tasting style was refreshing. I would definitely go back to try some more :).
I forgot to take a photo of the Korean taco and the pancake, a traditional dish that they nicely re-invented as a waffle Sorry! I guess you'll have to go and try it yourself!
Damso
867 Denman St, Vancouver, BC
V6G 2L9
(604) 632-0022
https://www.facebook.com/pages/Damso-Modern-Korean-Cuisine/210596938969979
This year's anniversary was very unique, and may not be easy to wrap your head around. It was a tribute to  Alexandre Balthazar Laurent Grimod de la Reynière (1758-1838) and his dinner club and "goguette" or singing club Le société du caveau . I'll let you read about Grimod la Reynière, but I will tell you this: he was the first food critic in France and the world! He wrote the Almanach des Gourmands or the gastronomic almanacs. He was also a grocer and one of the first people to use the business card. He also set-up a comittee to taste and critique foods. We see drawings of him in a library where there is food on the shelves instead of books. We always see him portrayed alone at a table writing, eating or pondering the food in front of him. He is portrayed as an independent thinker and taster in this way and his tools for his livelihood are the pen and the fork. Grimod de la Reynière had deformed hands, and his parents kept him out of public view. Because of his time alone, he developped his intellectual faculties, independent thinking, but also a deep desire to gather people together with him around a table and shared gastronomicexploration. I can relate to this. At one point, he had a dinner party at his parents' house and they came home to find a pig dressed-up and eating at the table with a sign saying he was the president. His parents disinherited him after this.
Grimod de la Reynière was a trained lawyer and had been a theatre critic, but was forced to write about somehting more "neutral" which led him to gastronomy. He had a love for art. Besides eating with his club and drinking as the name "Caveau" suggests. The club was a goguette which means that they also sang together. You could find poetry and theatre during their dinners as well.  His dinner club mixed food with the arts.
The second pioneer that we payed hommage to for our club's 11 year anniversary was Samuel de Champlain and his club L'Ordre du bon temps ou The Order of Good Cheer . Samuel de Champlain started L'Ordre du bon temps to keep his men from dying of scurvy or of fatally low moral during their first winter in New France in 1606-1607. Each member took turns hunting and coordinating the catering, and they never missed out, in fact, they ate lavish meals. They also mixed food and art and had a theatre piece about de Champlain meeting Poisedon.
 As a side note, I had a French professor tell me that Grimod de la Reynière was much more interesting and his club pre-dated de Champlain's. It's hard to see clearly when you see the world through your country's belly button. She can't help it… Sorry to the French people, but the Société du Caveau only started in 1729.
So how did all of this work into our dinner club celebration? Well, first things first, we celebrated it on February 1st, right in the throes of winter when the morale of many is at an all-time low as is their consumption of vegetables.
We are also a bit of a do-gooder club once a year and we like to spread the joy, so myself, special guest Nathalie Cooke and long-time member Judith Colombo went and sang folk songs at an old folks home for "La Journée m'enchante" which is practiced in 3 countries. It turns out that most of the dinner club isn't that much of do-gooders, they mostly come for the food…We, however had a really nice time singing at Le Manoir de Verdun songs like "Au Chant d'allouette", "L'hyme de l'amour" and "Somewhere over the Rainbow". It was really nice.
We chose the food them of "French Colonies" as it gave us alot of options and we are in a former French colony!  We ate a Cambodian beef salad, cretons, tarte au sucre, bahn mi, crispy vietnamese lemon duck, "poisson cru" a Tahitian ceviche in a coconut sauce, yogourt rice from Pondicherry, cajun artichokes stuffed with shrimp and a black triangle salad (sugar, rum and nutmeg in it!).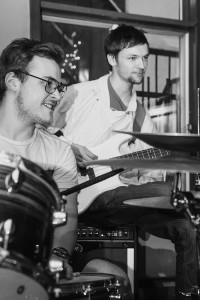 We also mixed music, dance and theatre with the meal, Nathalie helped us re-create the piece about de Champlain and Poisedon. It was amazing!
This was just what I needed to get through the lowest part of winter and experience some good cheer with my fellow goguettiers! I think De Champlain and his men would have had an even more delightful winter if there were a couple bellydancers in the mix!