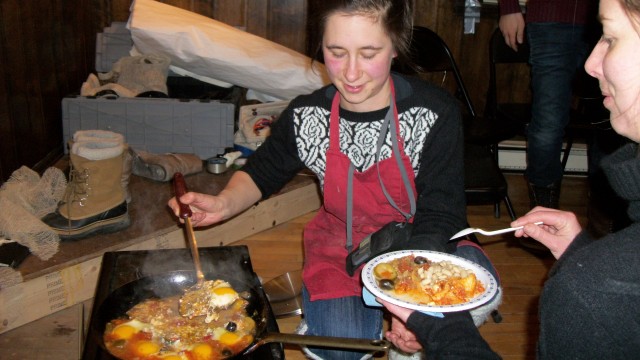 My name is Mélissa Simard. I've been cooking since I was six, organizing dinner parties since I was nine and flipping through cookbooks since I was old enough to open one. My mom was my first kitchen inspiration making everything from sushi to soufflés, jerky, smoked salmon and curry with the approach of a chemical engineer. My Grandma Jean was also an inspiration to me in that she made cozy food- borscht, wonton soup, lots of seafood and the best breakfast in the west with farm fresh eggs , chicken-in-a-mug and fresh tomato and farm bacon. My Dad became a vegan when I was a teenager and I think that planted a consciousness seed that would sprout later.
I grew-up in British Columbia with alot of Asian and Indian influences. I was baby-sat by an East Indian family for 4 years and ate Indian food everyday. The west coast vibe, mixing cuisines and keeping it healthy is a pillar to my food outlook. My influences were many and contrasting. It became clear that the possibilities and traditions for exploration are infinite.
I moved to Montréal when I was 18 and did Canadian Studies at McGill, taking an interest in identity formation. I took as many courses related to food as I could. I started cooking in restaurants while I was at McGill, and by the time I had finished, I decided to go to cooking school. I did an internship in Calabria Italy, and when I got out of cooking school, I worked in some renowned Montréal restaurants.
I made the decision to quit drinking almost four years ago.  I tried to come back to restaurant life not drinking and I found that I was too slow, clumsy and, well…. unmotivated. I also found it too hard not to drink. The adrenaline-high of service, the kitchen cowboy ego trip and the dysfunctional family dynamic that reigns in most kitchens no longer held any allure to me if I couldn't drink it off after.
I had to face the fact that I would probably never be a superstar chef.  Food wasn't about performance or product to me. So what did I have left? I had a thirst for knowledge, a gift for the gab, a slick pen, a knack with flavours, the curiosity to taste or cook just about anything, and a deep desire to socialize around the table and stove-top. I had also started giving cooking workshops in the last couple of years to kids, families, women and the economically marginal. I found it very satisfying helping people to eat well with little money and discover new ingredients, techniques and cultures through cooking. I also liked the aspect of doing research, preparing documents and recipes and sharing what I found with people. I started researching like crazy about food and brain function, food and mood and detox diets. These things revolutionized my view of food.
I got some gigs to come and cook on site for a wedding, Little Scream's music video shoot, for the Urban Agriculture Conference and some Art exhibitions. I  had to learn to construct something within  the customer's demands and budget. I loved it. So far the demand that came each time was vegetarian food- something is stirring in Montréal. I have since been trying to make it as a free-lance chef and opened 4 Corners of the Table or Les 4 Coins de la Table. I have the opportunity to learn with each contract and workshop and meet many interesting people of all ages and levels in society. It's nice to have contact with the people you are cooking for or with….I also opened-up a food tour company called 'Round Table Tours or Tours de la Table.
My Canadian Studies background is re-surfacing and I am more and more interested in food and identity. Whether one eats raw organic, champagne and oysters, fast food, in restaurants, at home with family or roommates, on the fly in their car or mindfully like a Buddhist monk- what, where and how we eat reflects our identity- or our many identities! This blog is about who I am.  It  is also about the many different food phenomena I run into on my path. Between travel, food tours, workshops, organizing detox diets, experimenting in the kitchen and my dinner club, I encounter so much that I want to share! I'm going to scratch the itch with my pen and amateur photography skills. Hopefully you'll see something once in awhile that you find interesting, significant, useful, encouraging or that rings true.