From the monthly archives: January 2015
Every year at the harvest I go pick what's left in the fields of D-Trois Pierres and come back to Montreal to can part of the harvest left-overs with the Réseau d'entraide and the other half with my dinner club. This year D-Trois Pierres didn't have any surplus […]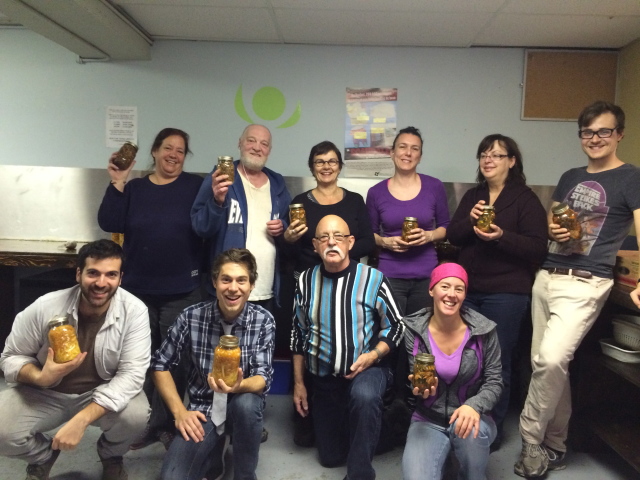 Every year at the harvest I go pick what's left in the fields of D-Trois Pierres and come back to Montreal to can part of the harvest left-overs with the Réseau d'entraide and the other half with my dinner club. This year D-Trois Pierres didn't have any surplus in the fields, so my whole model was thrown off kilter a few weeks before the end of the growing season. I have also been working part-time at Chez Doris (a day centre for homeless women) and giving cooking workshops once a month with CFAD (Continuité famille auprès des détenues). That meant that I had more partners to make preserves with and less produce to make it with!
I started by sending an e-mail to Lufa and thanks to the wonderful Erica Dancose who contacted their partners we received: cucumbers, peppers, carrots, beets amongst other things!
Then I got in touch with my close friend and celebrity organic urban farmer Judith Colombo and she hooked me up with La Ferme Belle Roche and La ferme co-op des Champs qui chantent in Lachute. We drove out with my mom who was visiting and picked parsnips, carrots, kale, herbs, swiss chard, green tomatoes, sorrel and hot peppers! Heather from Le co-op des champs qui chantent even had a hot bowl of soup for us! I think it was colder at the beginning of November than it is now!
This year was bigger and badder. Changing farms and enlarging the different benefitting organizations allowed me to involve more wonderful people in the activities!
Our first day of canning with fresh, local, organic produce took place at the Réseau d'entraide de Verdun. We did it with Gabriel's collective kitchen group, plus some of the former participants in my workshops, Suzanne Bruneau and Maxime Gaboriault from the dinner club and the esteemed secret weapon Sébastien Bureau of Mannanova who is also the food scientist of RISE kombucha. People left with a super garlicky and spicy kale kimchi fermenting, a ruttabega, cabbage and carrot kraut fermenting, salted herbs and a green fruit relish. There was 15 of us and it was such a heart-warming and pantry-filling experience.
The second preserve session was with ladies from CFAD and from Chez Doris at CFAD. We made chow chow and pickled carrots. We also had a nice time together and the staff from CFAD pitched in too.
I'd like to sincerely thank Le Co-op des champs qui chantent, Lufa and La Ferme Belle Roche for contributing fresh local, organic, in-season vegetables towards those who have less instead of the usual processed non-perishables, and also contributing to an experience where people learn about canning, salting, pickling and fermenting. Preserving is a highly social activity and it was nice to see people from each organization rubbing shoulders with each other, with dinner club members and even with Sébastien the food scientist! Thank you also to the organizations that housed the activity and contributed to cover the cost of the other ingredients and the mason jars! See you next year!