From the monthly archives: February 2014
This year's anniversary was very unique, and may not be easy to wrap your head around. It was a tribute to  Alexandre Balthazar Laurent Grimod de la Reynière (1758-1838) and his dinner club and "goguette" or singing club Le société du caveau . I'll let you read about Grimod la Reynière, but I will tell you this: he was the first food critic in France and the world! He wrote the Almanach des Gourmands or the gastronomic almanacs. He was also a grocer and one of the first people to use the business card. He also set-up a comittee to taste and critique foods. We see drawings of him in a library where there is food on the shelves instead of books. We always see him portrayed alone at a table writing, eating or pondering the food in front of him. He is portrayed as an independent thinker and taster in this way and his tools for his livelihood are the pen and the fork. Grimod de la Reynière had deformed hands, and his parents kept him out of public view. Because of his time alone, he developped his intellectual faculties, independent thinking, but also a deep desire to gather people together with him around a table and shared gastronomicexploration. I can relate to this. At one point, he had a dinner party at his parents' house and they came home to find a pig dressed-up and eating at the table with a sign saying he was the president. His parents disinherited him after this.
Grimod de la Reynière was a trained lawyer and had been a theatre critic, but was forced to write about somehting more "neutral" which led him to gastronomy. He had a love for art. Besides eating with his club and drinking as the name "Caveau" suggests. The club was a goguette which means that they also sang together. You could find poetry and theatre during their dinners as well.  His dinner club mixed food with the arts.
The second pioneer that we payed hommage to for our club's 11 year anniversary was Samuel de Champlain and his club L'Ordre du bon temps ou The Order of Good Cheer . Samuel de Champlain started L'Ordre du bon temps to keep his men from dying of scurvy or of fatally low moral during their first winter in New France in 1606-1607. Each member took turns hunting and coordinating the catering, and they never missed out, in fact, they ate lavish meals. They also mixed food and art and had a theatre piece about de Champlain meeting Poisedon.
 As a side note, I had a French professor tell me that Grimod de la Reynière was much more interesting and his club pre-dated de Champlain's. It's hard to see clearly when you see the world through your country's belly button. She can't help it… Sorry to the French people, but the Société du Caveau only started in 1729.
So how did all of this work into our dinner club celebration? Well, first things first, we celebrated it on February 1st, right in the throes of winter when the morale of many is at an all-time low as is their consumption of vegetables.
We are also a bit of a do-gooder club once a year and we like to spread the joy, so myself, special guest Nathalie Cooke and long-time member Judith Colombo went and sang folk songs at an old folks home for "La Journée m'enchante" which is practiced in 3 countries. It turns out that most of the dinner club isn't that much of do-gooders, they mostly come for the food…We, however had a really nice time singing at Le Manoir de Verdun songs like "Au Chant d'allouette", "L'hyme de l'amour" and "Somewhere over the Rainbow". It was really nice.
We chose the food them of "French Colonies" as it gave us alot of options and we are in a former French colony!  We ate a Cambodian beef salad, cretons, tarte au sucre, bahn mi, crispy vietnamese lemon duck, "poisson cru" a Tahitian ceviche in a coconut sauce, yogourt rice from Pondicherry, cajun artichokes stuffed with shrimp and a black triangle salad (sugar, rum and nutmeg in it!).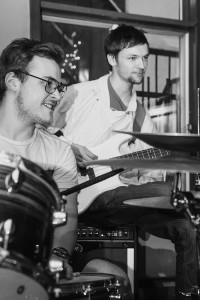 We also mixed music, dance and theatre with the meal, Nathalie helped us re-create the piece about de Champlain and Poisedon. It was amazing!
This was just what I needed to get through the lowest part of winter and experience some good cheer with my fellow goguettiers! I think De Champlain and his men would have had an even more delightful winter if there were a couple bellydancers in the mix!