Fruit Relish, Ketchup or « Chow Chow »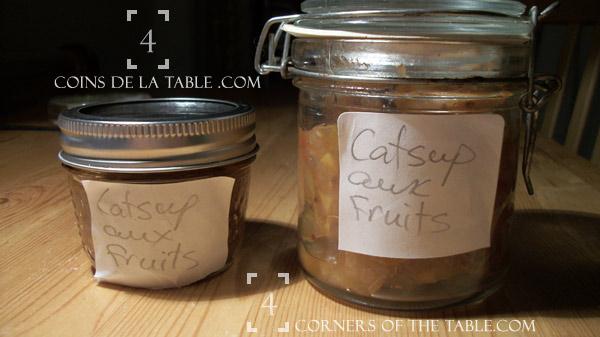 It seemed the next logical step to posting tons and tons of pictures of making fruit relish (catsup aux fruits) was to give my recipe. This recipe is easily adapted to what you have, and it will still be good. I promise.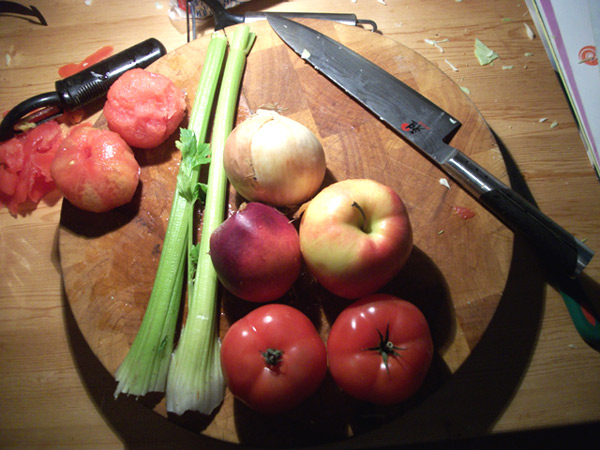 Fruit Relish, Ketchup or « Chow Chow »
4 apples or pears, peeled, cored and diced
4 peaches, nectarines or plums, peeled, pitted and diced
8 tomatoes, peeled and diced
2 onions, diced
4 branches of celery, diced
2 cups of brown sugar
1-1/2 cups of cider vinegar or white vinegar
2 tsp of salt
2 tsp of pickling spice (Or a mix of coriander seeds, mustard seeds, bay leaves, whole dried chillies, all-spice, peppercorns, cinnamon sticks) I also put a tsp of garam masala or 5-Spice powder in mine.
Combine all of the ingredients and simmer for at least 45 min or until thick. Put the ketchup into sterilized jars and process in a hot water bath for 20 min or at 11lbs of pressure (inMontreal) for 15min. Because chow chow is acidic, I actually just put it in hot sterilized jars and close them right away, but to be sure, use the hot water bath or pressure method.
Stuff that Chow Chow is buddy-buddy with:
Tourtière, Cipaille, Roasted Sausages, Roasted and Grilled Meats, Melted cheese on croutons, grilled cheese, Veggie Burgers, anything that you would put chutney or relish on!