From the monthly archives: November 2011
Vibrant is as Vibrant Does
For many of the days between Oct. 4th and 16th 2011, I subbed in for Valerie Legge at her juice bar Ô Jus in Mile End on the corner of Park Avenue and St-Viateur. She is the owner of Ô Jus, and she is also a life-coach who was recently in Germany and Italy giving a Coaching conference. Valerie is a Buddhist-inspired Vegetarian, Life-coaching Sagittarius inside and outside of Ô Jus. Her values translate directly into the business she opened. She has a philosophical attitude to starting and running her business; she spreads nutrition and good cheer. She makes delicious fresh juices and smoothies, home-made baking, paninis and soups and has a variety of high end hot chocolate, cereal coffee, teas and tisanes and coffee. She also has wheat-grass, all natural protein powder, organic lavender and home-made sorbet to complete her repertoire.
Every time I work at Ô Jus, I get out of there feeling invigorated. Valerie has made a space that gives off positive vibes and attracts good souls. People gravitate to Ô Jus because they are vigilant about their health and what they put in their bodies, because they want something delicious to feel good, because they want to work on the computers or soak in the sun from the terrace or the front window or because they just want to talk and be around Valerie or in the store's colourful atmosphere.
Valerie's soups are comforting in the cold and always have an exotic twist: red lentil and coconut, chick pea, curry and mint, sweet potato, carrot, orange and ginger. She makes decadent and nourishing energy balls with dates, nuts, seeds and many things I can't tell you…She also always has home-made muffins like banana and chocolate chip, Mindfulness muffins and lavender and lemon muffins. Her Cosmic Cookies attract regulars and are as delicious as a chocolate chip oatmeal cookie but with so much more: dried fruit, coconut, seeds, etc. They are dense and intense and very addictive…
Valerie has also allowed me to give workshops about detox regimes with a focus on juicing and smoothies and a workshop about high-protein home-made smoothies without protein powders: some vegan and some not. Workshops to come include Food and Mood and happy juices and smoothies (Nov. 29th, 2011)   and green smoothies (Jan 2012). They are enjoyable and are an extension of the juice bar being a life-style institution and not simply an economic endeavour.
I enjoyed the simplicity of working at Ô Jus, baking and making soup at a slow pace, taking in the heady smells.  I also enjoyed the friendliness and curiosity of the clients who embrace health and well-being and share themselves. People chatted me up and exchanged business cards and ideas readily.  This is particular to Mile End, I believe, and Ô Jus fits right in. In Mile End, for many, it is reasonable, even preferable, to take care of one's body and live in a thoughtful manner. Health foods and nutrition are not for extra-terrestrials. It seems to beMontreal's diet for a small planet mecca. There is junk food around like there is everywhere, but at Ô Jus, there were parents taking their kids for a fresh-pressed juice as a treat – new values are being nourished!
Feel free to stop in to Ô Jus (5443 Park Ave.) and taste the fare. Get to know Valerie and open-up to the world where zen is common-place: celebrating the richness of the moment and the wonderful and simple treasures the Earth has to offer.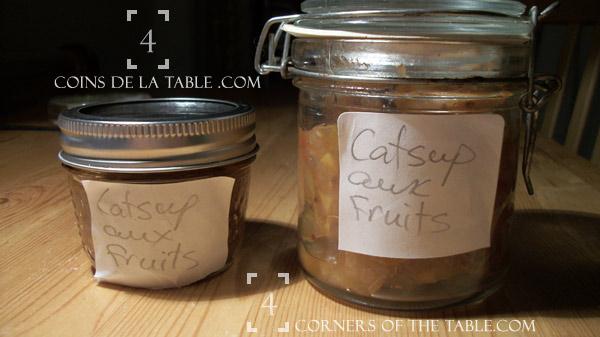 It seemed the next logical step to posting tons and tons of pictures of making fruit relish (catsup aux fruits) was to give my recipe. This recipe is easily adapted to what you have, and it will still be good. I promise.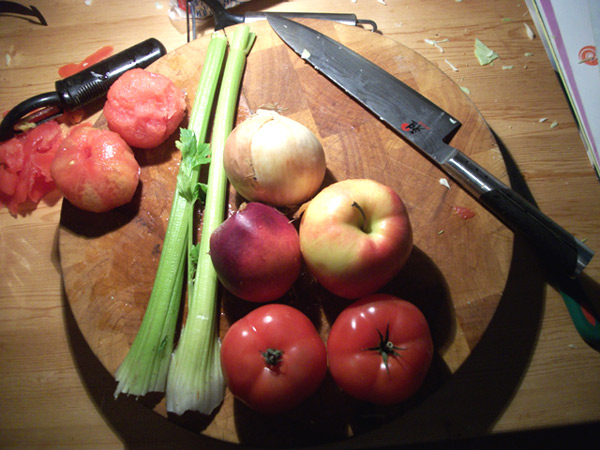 Fruit Relish, Ketchup or « Chow Chow »
4 apples or pears, peeled, cored and diced
4 peaches, nectarines or plums, peeled, pitted and diced
8 tomatoes, peeled and diced
2 onions, diced
4 branches of celery, diced
2 cups of brown sugar
1-1/2 cups of cider vinegar or white vinegar
2 tsp of salt
2 tsp of pickling spice (Or a mix of coriander seeds, mustard seeds, bay leaves, whole dried chillies, all-spice, peppercorns, cinnamon sticks) I also put a tsp of garam masala or 5-Spice powder in mine.
Combine all of the ingredients and simmer for at least 45 min or until thick. Put the ketchup into sterilized jars and process in a hot water bath for 20 min or at 11lbs of pressure (inMontreal) for 15min. Because chow chow is acidic, I actually just put it in hot sterilized jars and close them right away, but to be sure, use the hot water bath or pressure method.
Stuff that Chow Chow is buddy-buddy with:
Tourtière, Cipaille, Roasted Sausages, Roasted and Grilled Meats, Melted cheese on croutons, grilled cheese, Veggie Burgers, anything that you would put chutney or relish on!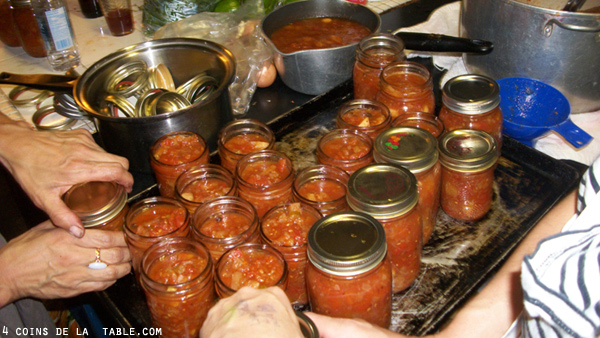 Conserving Autumn: Canning, Fermenting and Salting it!
Hot vegetables in brine, pickled spiced beets, salted herbs and ketchup
The weekend of October 21st to the 23rd was spent canning, salting and starting vegetables fermenting.  Friday the 21st of October, Judith Colombo, elite member of the 4 COINS DE LA TABLE dinner club for […]
Conserving Autumn: Canning, Fermenting and Salting it!
Hot vegetables in brine, pickled spiced beets, salted herbs and ketchup
The weekend of October 21st to the 23rd was spent canning, salting and starting vegetables fermenting.  Friday the 21st of October, Judith Colombo, elite member of the 4 COINS DE LA TABLE dinner club for many years, went into the fields of D-Trois Pierres in Cap-St-Jacques and harvested cases of vegetables and herbs for the dinner club to transform. She is the agricultural co-ordinator of the largest organic farm on the island of Montreal, and, although she said this was a terrible year, boy she grew some beautiful vegetables. We had picked the date 3 weeks prior, and it was the very end of the season and the organic food hampers. Each member of the dinner club planned and brought the ingredients to transform a vegetable or two. Judith made a salsa with the tomatoes, peppers, onions and hot peppers. Jeremy made swiss chard in a highly seasoned lemon and garlic oil and vegetables and hot peppers in brine. Suzanne, Tisha and Majiza (mother and daughters) made sweet and spicy beets and started a beet sauerkraut,  Ameur salted herbs, Gisèle pickled root vegetables and Mario (my blog techie) made a Portuguese tomato jam with porto and cinnamon. I bought some apples and nectarines and used the farm's onions, celery and tomatoes to make catsup aux fruits (fruit ketchup). When I got home, I started a cabbage sauerkraut and a kale kimchi fermenting.
We made 72 jars of stuff in an evening, and 3 buckets of cellar vegetables are still fermenting. It was a party of abundance, marking the changing of the seasons, and it was heart-warming to send each other off with a dozen jars for each household. The preserves are not only useful and delicious, but a reminder of the seasons, local production and the people that made the preserves with love.
We were also reminded of how much work agricultural life entailed back in the day. We canned from 4pm to midnight, and we were numerous. However, a woman doing it by herself after milking the cows, tending the fields, cooking and caring for her children…I can guarantee she didn't have time to complain about the change in temperature or ponder what to do with her life. Like back in the day, all of the women did all of the organizing, delegating tasks, gathering mason jars and were ready to work when they got there. The girls started work at 4pm, Judith around 1pm picking the vegetables and the guys trickled in around 6:30, 7 o'clock ready to drink beer. Jeremy knew what the work entailed as he does product transformation for Wing Noodle, but the other guys insisted we were there "to have a good time".  At the end of the night, everyone was wiped, but we were really happy with what we'd done. I think some actually realized that, although it was work, work does not always mean suffering. It is actually key in developing one's sense of purpose, accomplishment and self-esteem. When you make the effort, you get the pay-off. Avoiding the effort is even more painful than digging-in. It is also nice to attack the work as a group, make a party out of it and help the other with their task. Each person has different strengths to offer.
The canning was not done. I had a workshop with the Réseau d'Entraide de Verdun as well. We went out to D-Trois Pierres (in Cap-St-Jacques) the morning of Sunday October 23rd and picked carrots, beets, cabbage, herbs, rutabagas, white turnips, and some green tomatoes. There were 2 families and an individual. There was a buzz in the air.  It's exciting getting out of the city, and it was beautiful out. When we got back to the Réseau d'Entraide de Verdun, we made a fast sauerkraut, catsup aux fruits (fruit ketchup), salted herbs and pickled beets.
Some of the people that came out had never been to a farm before, and, before they came to the farm, some of the kids didn't really understand that a carrot grew under the ground. They were mesmerized by the farm animals and just generally enraptured by the countryside.  As with the dinner club, they also found out that a day of picking vegetables and conserving them is really hard work. Surprisingly, the kids out-toughed the adults, and it was a really magical…and productive day.
The weekend of Oct. 21st to the 23rd was a work sprint like in the old school.  It didn't pay, but it stocked the shelves in quite a few pantries for winter and got together dear friends from the dinner club and other Verdun citizens that wanted to learn to preserve the fruit, vegetable and herb fall bounty. We were put back in contact with the Earth, and we remembered where vegetables come from, that people grow and harvest them and the work that goes into transporting and preparing them. It ended up being a celebration of the seasons and a breath of fresh air and solidarity. Stay tuned for more cooking parties of the sort.