Dinner Club: Do-it-yourself World Domination Kit
I have been organizing a dinner club for the last 8 and a half years. What is a dinner club you say? Well, MY dinner club goes like this! We are a bunch of friends joined through our common interest in cooking, eating and trying new things. But what do we do? We get together one Sunday a month and each individual, duo or team has a task to complete for the dinner. The tasks rotate each month. What are the tasks? The first task is to make the main meal, decide the theme and find a place to host the dinner. The theme is usually a geographic region, but can be other things like: raw, vegan, mezze, local and in season, etc. The other tasks are: appetizers, salad, soup, culinary history/thematic music/thematic activity/thematic story, bread and condiments, dessert and drinks corresponding to the theme. There 12 real members right now and a few auxiliary members (boyfriends and girlfriends) that come once in awhile.
I started the dinner club in January 2003 and we have since done the themes: Local and in season, Louisiana, California, Maryland, the deep South, Amerindian, Mexico, Peru, Brazil,  Cuba, Haiti, Jamaica, England, France, Brittany, Normandy, Italy, Southern Italy, Holland, Sweden, Germany, Switzerland, Belgium, Gypsy, Spain, Tapas, Morocco, Tanzania, South Africa, Mozambique, Ethiopia, Syria, Iran, Israel, Turkey, India, Greece, Russia, China banquet-style, Japan, Thailand, Malaysia, Nepal, Korea, North Korea, the Mediterranean, Detox, raw, vegan, Tex-Mex, murder mystery, sugar shack, bento box, cocktails and hors d'oeuvres, beer and the Middle Ages and many more.
The dinner club is one of the things that brings me the most joy in the world. It's like a tasting fest once a month. You have to do research to complete your task- so you get new ideas, play with  unfamiliar ingredients and become acquainted with the stores to buy them. The dinner club puts you out of your comfort zone, and after completing your task, you get to taste everyone else's stuff, and hear about how they made it.  It's like a trip to another time place or pop culture zone. It's also fun to eat like a king and do it in good company.  Dinner club has also become my surrogate family since all my family is in B.C.. The regularity, the ritual of everyone presenting their dishes, the games and sharing food is conducive to fraternity and gemütlichkeit.
Why world domination? Well, you can go anywhere in an evening or with a theme. The sky is the limit. We celebrated our 8th anniversary by eating in the metro, but I'll talk about that another time.It is also a club that brings together all kinds of talents and perspectives around a table. We have  a noodle and sauce maker/Martial Arts Guru (Jeremy), one of the best waiters in Montréal (Phil), a web page designer/street artist/experimental musician (Françis), an agronomist (Judith), a biological statistician/agronomist (Ameur), comic book artist (J-P), Chef/Hip-Hop and Tap teacher (Majiza), Care Aid (Suzanne), Family go-to person at the hospital (Tisha), web page designer (Martin), DJ/Computer technician (Mario), and a  free-lance Chef and cooking workshop coordinator (me).  We also have many cultural backgrounds: the Islands, the ghetto, Berber, Portugese, Québecois, West coast, Chinese. Really, if we put all our super powers together, I think we could take over tomorrow. We also deliberately take time to do the things we love: eat, cook, dance, play and fool around. Dinner club is structured but it is the anti-grind.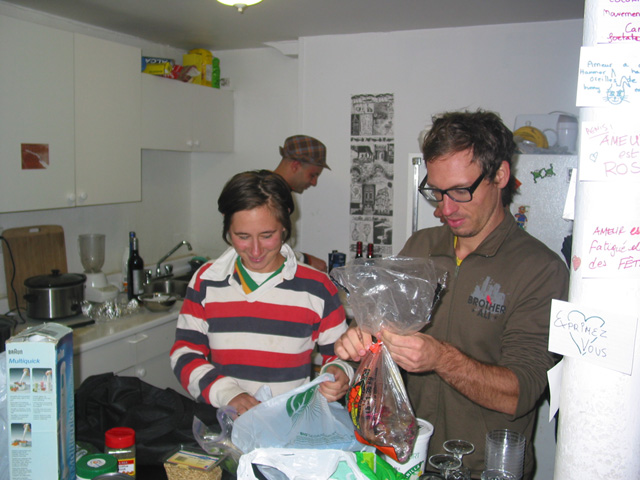 At one point we had a geo cities web site called the Food Exchangeists which may be revived. Our slogan was Some Want to Eat, Some want to Talk, Some Want More. We thought if we presented it as a swinger's club, we'd get more traffic. Unfortunately, we didn't feed it and geo cities shut down.
Sounds like fun? It is, but it wasn't always stable. I have to admit it wasn't my idea either. My Mom had a dinner club when I was little, and they only did 4 dinners because it was too hard to get people to come regularly. I was marked by those dinners. I started my own in 2003.  I was 20 years-old and it was while I was doing Canadian Studies at McGill before I worked in the industry. There was like 14 of us, but within a year, there was only four of us and it was like that for about six months. The numbers would go up to 16 then drop to six or eight, but I would say that there has been a minimum of  10  people at each dinner for the last  four years. The most stable members (the core) have been coming for about five years. If you don't have the commitment or passionate people, you really can't develop the concept, you can only get by and do the minimum. Since the members have been more stable, we've been able to do folk story sketches, play games and people aren't stingy either about their contribution.
For the fall of 2010, we had two French girls with us: Amélie and Véro, one Normande and one Bretonne. In December 2010 before returning to France, they hosted Normandy and had food brought from France. We had the dinner at Nuart Café and it was amazing. The food was wonderful and we were on a high: they were leaving, we acted out Norman folktales, I had just started my business Les 4 Coins de la Table and I was starting to embrace my newly single life.  I announced that in January 2011, it was dinner club's 8 year anniversary. We had to do something epic. Françis had suggested eating in a metro train a few years ago, and I threw it out there. Maybe it was the trou Norman but there was hype in the air. Everyone raised their glasses "in" and we were all screaming with excitement. LET"S DO IT! ON LE FAIS! AAAHHHH!!!
If you have questions, comments or suggestions about Dinner Club, don't hesitate to contact me. You can contact me if you would like to start your own.