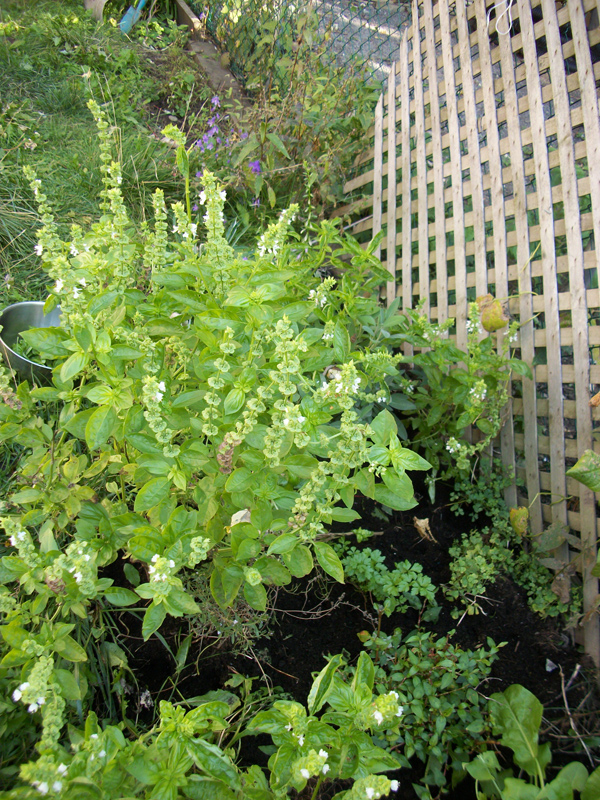 Anyone who knows me knows I have a bit of a soft spot for salt, spices, aromatics and hot food. I grow a variety of herbs and at the end of the season, I have a surplus. There are many things we can do with the masses of left-over herbs: drying, pesto, perfumed oils and salted herbs. I tend to dry a bit, make a bit of pesto and make salted herbs. Every year, the thing I have the most of is basil. I like pesto as much as the next girl, but I like other things too. I've started making pestos with a few different nuts just to switch it up a bit, but I've also started making my own blends of salted herbs besides the Bas-du-Fleuve style. I make  Calabrese, Provençal, and Indonesian-style salted herbs now. These are recipes I made-up. They are my way of grouping and preserving a concentration of flavours from a certain culinary tradition, so I can add their essence to a dish. Salted herbs are good for soups, stews, sauces, salad dressings, or anywhere you want to put salt and flavour!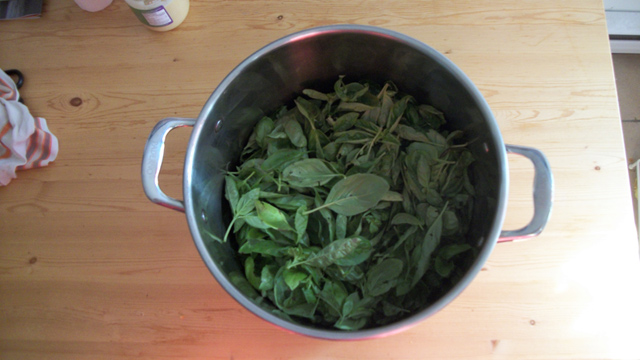 When I did a cooking internship in Calabria with Luigi Quintieri at La Tavola di Melusinda he showed me that the key flavours in Calabrian cuisine were mint, garlic, basil, pepperoncino (hot peppers) and lemon zest. There were alot of Moorish tones to Calabrian food.
Here is my recipe for Calabrese salted herbs
Calabrese salted herbs
400g of basil
200g of mint
1 head of garlic
zest of 3 lemons
2 to 4 hot peppers of choice (you can use dried chilis of you want too)
1/4- 1/3 c. of  sea salt of choice
a little olive oil or water to make the paste smoother
Wash the herbs. Slice the garlic and hot peppers. Zest the lemons. Put all ingredients in a food processor. Process until smooth, adding a little water or olive oil. Mix in the desired amount of salt. I use grey salt or fleur de sel, but you can use something much cheaper as you will probably use the salted herbs for cooking and not finishing a dish. If you want to do an even more Moorish version (pardon the pun), you can replace the lemon zest with minced preserved lemon. Enjoy! Thank you Luigi for the inspiration!