From the monthly archives: October 2011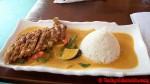 This summer I spent 6 weeks in Europe: France, Germany and England, to be precise.  All European countries are experiencing the recession, some more severely than others.  In France the lack of work and high cost of living seemed to be the topic of choice, while in London the bars were as full as when […]
This summer I spent 6 weeks in Europe: France, Germany and England, to be precise.  All European countries are experiencing the recession, some more severely than others.  In France the lack of work and high cost of living seemed to be the topic of choice, while in London the bars were as full as when the country was on-top, but the recent rioting seems to indicate that something is amiss and social inequality is being exacerbated by the economic crisis.Europe is historically the home of intolerance, white imperial superiority and epic clashes along ideological and religious lines. This is apparent in Berlin where one can visit the remains of concentration camps, the Wall and eerie prisons: all manifestations of deep intolerance.  Blame of non-European immigrants for the current plagued economy is not uncommon. Northern Europe pointing  the finger at their Mediterranean European Union counter-parts is even stated as an evidence.  It seems that the "other" is the cause of the problem. A deep-seeded nostalgia for the past- "everything was fine before they came" also hangs heavy in the air. I'm not really sure which period to be  nostalgic about: the Crusades, feudalism in the Middle Ages, the World Wars, fascism or the clash or communist and capitalism?  Women couldn't own their own possessions or get a bank account and work without their husband's permission until the mid-sixties in France. Spain and Portugal were under fascist rule until  the 70's. The Berlin Wall came down in 1995. So when was Europe's Golden Age again? And for whom?
Regardless of the complexity of the immigration situation in Europe, one clear contribution of immigrants in France, Germany and England is cheap good eats. Turkish, Vietnamese, Thai, Indian, and pseudo- Japanese eateries dot city blocks. For myself, foreign fare tends to have a bit more of my daily vegetable intake than the local fare. The spunkier flavours are also a welcome change for extended European visits (especially in England). No one can take France's culinary medals from them, but for inexpensive French cuisine, it really is hit and miss. France's culinary reputation has given them license to rape tourists, on occasion serving them food that is shabby by North American standards. (Tiens!) Yet many French, Italians and Spaniards retain their chauvinistic approach to food. Some know and care only to know local and national food. In what are supposed to be  modern transient societies and were the birthplace of colonialism and the mass spread  of culture, people and social systems around the world, the frequent lack of interest in other culinary traditions is shocking.  When Italians get off the plane in Tunisia and immediately start looking for pizza- this is a problem.
Food is very emotional and we connect it to our moms and grandmas and it is key in our cultural identity, whether it be a pure or a melting pot identity. It is normal to be attached to one's gastronomic traditions, yet I saw a delicious example of where two cultures met on a middle-ground. Resolving cultural differences by planting roots in the here and now in new cultural realities and using food as the medium, well-  that's amazing!
When I was in Berlin, I had a dream about poaching a duck breast and then slicing it thinly.  In my dream I was very anxious about the whole process and how it should be served. Don't ask me what the dream means, I do not know! The next day, after some fun-filled hours of visiting museums documenting the suffering caused by over-zealous government/army regimes, I stopped in to a roadside Thai/Vietnamese/Chinese shack for a bit of respite from Europe's  heavy history.  The establishment was an orange snack  trailer  with a bamboo fenced in terrace, and a nice calming breeze, just there- or so it seemed! It felt like an oasis in the dessert. All the clients were Germans- original ethnic Germans, no immigrants- first, second or whatever generation- just Germans.  One of my favourite things about ordering in a country where  you don't speak the language is ordering a random item off the menu and getting a total surprise. I settled on number 30 Knusprig ente under the section Ente-Gerichte. It was described as follows:abgeschmeckt mit basilicum, zitrongras, kokomilch, gruen, bohnen und rotem curry dazu Duftreis. Okay, I'm not completely ridiculous, I knew there was basil, lemongrass and coconut milk in it. After an eager and short wait,  delivered to my table was a schnitzel-style (breaded and fried) piece of meat, sliced thinly laying delicately on a bed of creamy curried vegetables  with a little temple of rice next to it. I picked-up one of the pieces of meat with my chopsticks, oggled it and noticed it was somewhat dark,… doesn't look like pork. I took a bite and the texture was  like poultry, but not chicken, much more flavourful…Oh my goodness, I got a breaded fried duck breast with vegetables for 5.50 €! Get out!  The duck was a schnitzel-style interpretation of Southeast Asian breaded and fried meat… but it was really good. The curry had this kind of synthetic- Knorrish type of flavour and wasn't very spicy, but it was also very nice. I looked around and saw the calm of other satisfied customers. Neither German nor South East Asian food is supposed to be like this; some elements were toned-up, while some toned-down but the compromise was really good. The lack of purity did not seem to pose a threat to any of the others eating…why should I care? I remembered my dream and felt this was an answer to my dream-time duck anxiety (I still don't really know what it means.)
Knusprig ente – crispy duck with curried vegetables and rice
This seemed to be an answer to the intolerance question. For a new-arrival to integrate local traditions into his culinary practice  is a great step towards leaving  behind one's past life. This dish was about embracing change and living one's reality, weaving the best of both worlds together…and for 5.50€ , come on. You take the fried meat you made at home, but then you try it the way the people make it  where you are. Do the same with the sauce and serve it back to them. That's what exchange is! You take your original premise, modify elements of it with ideas you take from another tradition and then give it back to them as a gift. Everyone is happy! The customers were happy… and many. The men working there  had a lightness and joy about them and were living it up in the new-life .  They all waved eagerly and with pride when they saw me trying to take a photo of their roadside stand on the sly.  They were enjoying the best of both worlds.  They weren't sinking with purist rigidity; they were rising above, transcending, transmuting the heaviness of the many close-minded.
This  dining experience was also unlike the dumpy Chinese restaurants in Montréal that serve a worst of both worlds rendition of Chinese food because they don't think Canadians 'can handle it'. It also wasn't the super-segregated all-Japanese or all-Chinese restaurants in Vancouver where everyone turns and looks at you with gaping-mouth if you cross the invisible border and actually come in to see what's going on on the other side.
Sampling the gastronomic fare of other cultures and sharing yours with them is a way of ingesting traditions, and the common sensory and nutritional experience of a people. People are proud of their food. When you taste the food of an up-rooted immigrant, you can at least appreciate that they 'are not from here'. They have their own baggage and know-how, and they try to recreate what they know without having all of the same ingredients. It's hard to cook up an identity- one that works, one that you feel good about, It's also hard to mix in new unacquainted ingredients, but usually with trial, error and a little common sense you can make it work with what you have. Kudos to the roadside Buddhas and the high-end foodies around the world that find a way to use food to bridge the gap.
Note
The restaurant is called Imbiss Reisschale and there are different locations around Berlin, but the one I ate at was at 68 Ruschestraße, Berlin.
Little Facts
Knusprige Ente- is what we would call "Crispy Duck" in English. In Chinese cooking, the duck is usually cooked with aromatics and then fried without being breaded. In German cooking Schnitzel is a piece of white meat- veal or pork- that is pounded until thin, coated in bread crumbs and then fried.
Challenge
I challenge you to do you own crispy duck- rubbed and cooked with the aromatics you like- maybe anise, ginger, scallions, garlic and then breaded in the style you like and fried- beer batter, panko, egg, flour and soft bread crumbs- as you wish. What is your reality?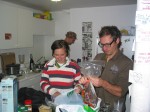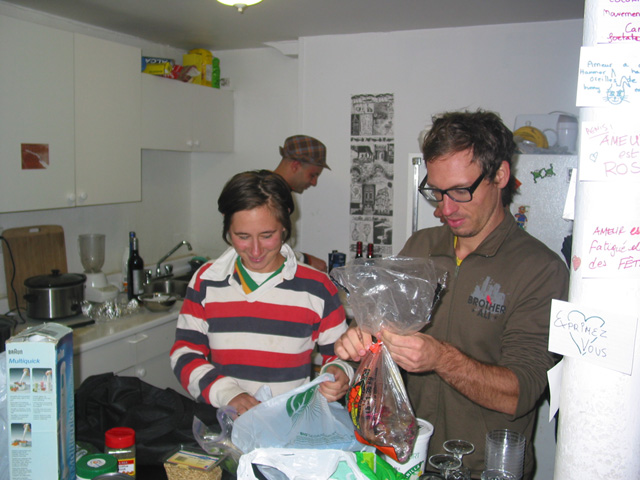 I have been organizing a dinner club for the last 8 and a half years. What is a dinner club you say? Well, MY dinner club goes like this! We are a bunch of friends joined through our common interest in cooking, eating and trying new things. But what do we do? We get together […]
I have been organizing a dinner club for the last 8 and a half years. What is a dinner club you say? Well, MY dinner club goes like this! We are a bunch of friends joined through our common interest in cooking, eating and trying new things. But what do we do? We get together one Sunday a month and each individual, duo or team has a task to complete for the dinner. The tasks rotate each month. What are the tasks? The first task is to make the main meal, decide the theme and find a place to host the dinner. The theme is usually a geographic region, but can be other things like: raw, vegan, mezze, local and in season, etc. The other tasks are: appetizers, salad, soup, culinary history/thematic music/thematic activity/thematic story, bread and condiments, dessert and drinks corresponding to the theme. There 12 real members right now and a few auxiliary members (boyfriends and girlfriends) that come once in awhile.
I started the dinner club in January 2003 and we have since done the themes: Local and in season, Louisiana, California, Maryland, the deep South, Amerindian, Mexico, Peru, Brazil,  Cuba, Haiti, Jamaica, England, France, Brittany, Normandy, Italy, Southern Italy, Holland, Sweden, Germany, Switzerland, Belgium, Gypsy, Spain, Tapas, Morocco, Tanzania, South Africa, Mozambique, Ethiopia, Syria, Iran, Israel, Turkey, India, Greece, Russia, China banquet-style, Japan, Thailand, Malaysia, Nepal, Korea, North Korea, the Mediterranean, Detox, raw, vegan, Tex-Mex, murder mystery, sugar shack, bento box, cocktails and hors d'oeuvres, beer and the Middle Ages and many more.
The dinner club is one of the things that brings me the most joy in the world. It's like a tasting fest once a month. You have to do research to complete your task- so you get new ideas, play with  unfamiliar ingredients and become acquainted with the stores to buy them. The dinner club puts you out of your comfort zone, and after completing your task, you get to taste everyone else's stuff, and hear about how they made it.  It's like a trip to another time place or pop culture zone. It's also fun to eat like a king and do it in good company.  Dinner club has also become my surrogate family since all my family is in B.C.. The regularity, the ritual of everyone presenting their dishes, the games and sharing food is conducive to fraternity and gemütlichkeit.
Why world domination? Well, you can go anywhere in an evening or with a theme. The sky is the limit. We celebrated our 8th anniversary by eating in the metro, but I'll talk about that another time.It is also a club that brings together all kinds of talents and perspectives around a table. We have  a noodle and sauce maker/Martial Arts Guru (Jeremy), one of the best waiters in Montréal (Phil), a web page designer/street artist/experimental musician (Françis), an agronomist (Judith), a biological statistician/agronomist (Ameur), comic book artist (J-P), Chef/Hip-Hop and Tap teacher (Majiza), Care Aid (Suzanne), Family go-to person at the hospital (Tisha), web page designer (Martin), DJ/Computer technician (Mario), and a  free-lance Chef and cooking workshop coordinator (me).  We also have many cultural backgrounds: the Islands, the ghetto, Berber, Portugese, Québecois, West coast, Chinese. Really, if we put all our super powers together, I think we could take over tomorrow. We also deliberately take time to do the things we love: eat, cook, dance, play and fool around. Dinner club is structured but it is the anti-grind.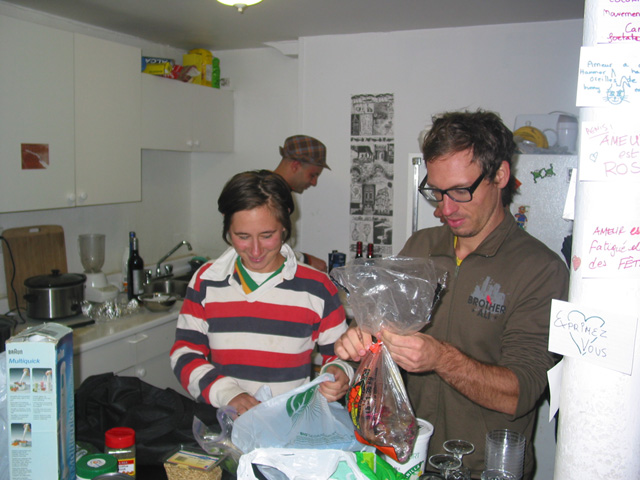 At one point we had a geo cities web site called the Food Exchangeists which may be revived. Our slogan was Some Want to Eat, Some want to Talk, Some Want More. We thought if we presented it as a swinger's club, we'd get more traffic. Unfortunately, we didn't feed it and geo cities shut down.
Sounds like fun? It is, but it wasn't always stable. I have to admit it wasn't my idea either. My Mom had a dinner club when I was little, and they only did 4 dinners because it was too hard to get people to come regularly. I was marked by those dinners. I started my own in 2003.  I was 20 years-old and it was while I was doing Canadian Studies at McGill before I worked in the industry. There was like 14 of us, but within a year, there was only four of us and it was like that for about six months. The numbers would go up to 16 then drop to six or eight, but I would say that there has been a minimum of  10  people at each dinner for the last  four years. The most stable members (the core) have been coming for about five years. If you don't have the commitment or passionate people, you really can't develop the concept, you can only get by and do the minimum. Since the members have been more stable, we've been able to do folk story sketches, play games and people aren't stingy either about their contribution.
For the fall of 2010, we had two French girls with us: Amélie and Véro, one Normande and one Bretonne. In December 2010 before returning to France, they hosted Normandy and had food brought from France. We had the dinner at Nuart Café and it was amazing. The food was wonderful and we were on a high: they were leaving, we acted out Norman folktales, I had just started my business Les 4 Coins de la Table and I was starting to embrace my newly single life.  I announced that in January 2011, it was dinner club's 8 year anniversary. We had to do something epic. Françis had suggested eating in a metro train a few years ago, and I threw it out there. Maybe it was the trou Norman but there was hype in the air. Everyone raised their glasses "in" and we were all screaming with excitement. LET"S DO IT! ON LE FAIS! AAAHHHH!!!
If you have questions, comments or suggestions about Dinner Club, don't hesitate to contact me. You can contact me if you would like to start your own.

Hello everyone,
I am detoxing again this automn. In the spring we had a detox clan and we exchanged our meals and it worked-out really well. Besides each person's unique tasty eats, we ended up exchanging our experiences, enthusiasm, culinary know-how, and solidarity as well during the 14 days.  We are detoxing from Sept. 10th […]
Hello everyone,
I am detoxing again this automn. In the spring we had a detox clan and we exchanged our meals and it worked-out really well. Besides each person's unique tasty eats, we ended up exchanging our experiences, enthusiasm, culinary know-how, and solidarity as well during the 14 days.  We are detoxing from Sept. 10th to the 23rd. The way it worked last time, is we each cooked breakfast, lunch and dinner for 1 day each week for the amount of people that participated (4 people). We met twice to exchange food (once a week). We came with our tupperwear containers and stocked-up. If we have more people, that means everyone cooks less. These are the rules:
1. No red meat
2. No chemical additives or processed food
3. Organic when possible
4. No dairy
5. No gluten
6. No refined sugar
7. no vinegar
8. No booze
9. No drugs
10. No cigarettes
11.  No caffine!
12. Things that help eliminate (laxative)
13. Expectorants (things that make you sweat)
14. Diuretics (things that make you pee)
15. Things that support your immune-system and clensing organs
16. Get exercise
17. Get sleep and rest
18. Get down time- meditation
19. Drink infusions, stuff that calms in the evening
20. Lots of liquids!
21. No more than 1 cup of tea a day
22. No toxic people, media, etc.
23. Keep clean
24. See what comes up!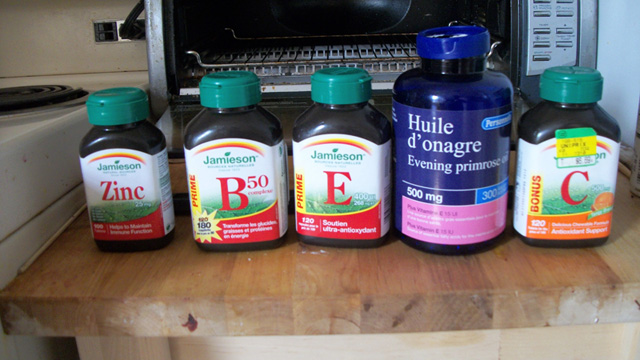 Some people have suggested doing a day or 2 of just fresh juice or just raw fruit and vegetables. I think that should be a personal choice. Let me know what you think. If you are interested, let me know. If you are not, you do not need to write to explain why- it's ok! If you are unsure, please do not embark, I only want the energy of people that are able to commit in ernest. If you really want to do it, but feel that you are incapable of cooking 3 meals for everyone for 1 day, let me know and you can enter into a financial arrangement with me and I can take you under my cooking wing. Looking forward to it! I attached a document about detoxing- vitamins, things that are good for different parts of the body just to give the basic principles.
Majiza- forward it on to the familia. Joanne- I think you expressed interest as well.
Sincerely,
Mélissa xox